| | |
| --- | --- |
| Drottningholm research programme | 08/2005 |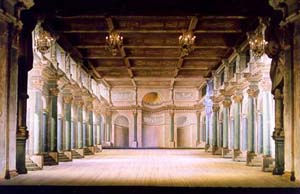 Drottningholms Slottsteater is today the only one XVIIIth century theatre, kept in its original shape, that has a steady operatic production activity. The summer festival rallies, each season, the most talented artists and craftspeople.
This theatre was build in 1766 and, from 1771, the will of the sovereign Gustave III to develop arts and especially theatritical arts in Sweden was very perceptible. Through his impetus, numerous artists et craftsmen of french origin came to Sweden and contributed, in the XVIIIth century, to the genesis of an independant swedish theatritical activity.
The Drottningholm Programme allows artists, craftsmen or researchers working in Drottningholms Slottsteater or Sveriges teatermuseum to come to Paris for one week of work, which is an opportunity for them to explore historical links between the practice of theatre in France in the Eighteenth Century, and their own daily activity in Sweden.
Christophe Lécuyer
Nov. 2002
Projects led within the Drottningholm programme
Season 2004
"PAPILLON DE LA FERTÉ" Travel Grant
Theme: The cultural Enterprise in Paris in the XVIIIth Century
Project: Writing of a synthesis article
Eva Lundgren

Postponed and lead within the 2005 programmes
Season 2003
"MARMONTEL" Travel Grant
Project: Props & Mask in France in the XVIIIth century
Elisabeth Hamfelt
Season 2002
"GALLODIER" Travel Grant
Project: French ballet in the XVIIIth century
Magnus Blomkvist
Season 2001
"SERVANDONI" Travel Grant (in

)
Project: stage machinery in France in the XVIIIth century
Christer Nilsson
Season 2000
"BOQUET" Travel Grant
Project : French Costume of the XVIIIth century
Lena Dahlström