| | |
| --- | --- |
| Gustave III research programme | 03/2004 |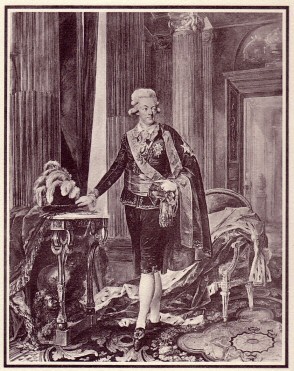 Gustave III research programme is a major line in the Académie Desprez's activities. Focusing on the sovereign's life and works, on his thoughts and actions, the programme aims to renew the approach of the "Gustave III phenomenon" in his complex relationship to the arts of his time.
The research programme is particularly concerned with the longly neglected study of the sovereign's journeys to Paris. The study focuses on the influence these journeys had on the arts not only in Sweden but also in France.
Gustave III's character in his relation to the work of art is protean. Beyond the royal expected role, as a commission giver, Gustave III is, turn to turn, actor, author, poet and stage director. Like Louis XIV, he organises artistic life around the everlasting turmoil created by his incredible energy.
The Patron / Artist relationship is nevertheless interesting in a todays approach: his beeing a patron and his practicing as an amateur make Gustave almost an artist, so deep is his influence in the completed works. His name is indissociatable from the names of at least twenty major artists of his time.
In the future, the programme will enable us to draw a panorama comprehending directions both versatile (litterature, music, theatre, painting, danse) and stimulating for todays man for they are rich of contemporary perspectives.
Gilbert Blin
10 May 2000
Projects led within the Gustave III programme
Season 2004
"ARMFELT" Travel Grant
Theme: Gustave III & Desprez
Project: Writing of a work of fiction for the radio
n.a.
Season 2003
"GYLLENBORG" Travel Grant
Project: Bigger Jarl och Mechtild:
A Metamorphosis for the Swedish Stage of a French Comédie-ballet
Philippe Rolland
Season 2002
"LÖWENHJELM" Realisation Grant
Project: Documentary Funds about Naumann
Patrick Rondeau & Ulrich Schmieder
Season 2001
"LEKAIN" Study Grant (in

)
Project: Actors and their Costumes in Voltaire's theatre
Olivier Till
Season 2000
"MADAME DUGAZON" Study Grant
Project : Repertoire of the Opéra-Comique 1771-1784
Aline Désesquelles
Gustave III's relationship with French world of Arts
Gustave III stayed twice in France: in 1771 and in 1784:
Groupe de soutien

To get to know more on those relationships (performances, actors, authors, opéras, musicians...),
please discover the detailled agenda of the sovereign, established by Gilbert Blin:
Gustave III's stays in Paris in 1771 & 1784 (in

)

Authorized access for Académie Desprez's members only.
Should you meet any connecting problem or have forgotten the password ? Then contact us